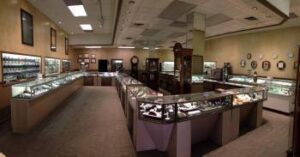 Beeghly and Keim Jewelers is a full service manufacturing retail jeweler. We have been providing services to our customers all across the country for over 30 years. We boast exquisite jewelry from some of the most famous names in the industry. We have beautiful and impressive "design your own" custom-made pieces, as well as an expansive selection of inventory for any and every budget and occasion. While we strive to keep up with the trends, we also realize that classics never go out of style.
Beeghly and Keim Jewelers continues growth fueled by outstanding customer service and value. Beeghly and Keim Jewelers is the premiere jeweler in the Somerset area. We maintain this by continuing to represent fine designer lines, design and create whatever the customer desires, and providing expert professional in-store jewelry and watch repair.
A Store of Many Firsts
Founded in 1982, Beeghly and Keim Jewelers was the store of many firsts for Somerset. The first G.I.A. Graduate Gemologists in the Somerset area, the first to offer jewelry casting and Computer Aided Design for jewelry, and the first to offer laser welding for complex jewelry repair. The foremost goal is to make a satisfied customer. Our staff takes great pride in conducting our business professionally, while simultaneously creating lasting friendships. There are many "life events" we all encounter. All that we at Beeghly and Keim Jewelers hope for is an opportunity to earn your trust enough to be a small part of a big moment.